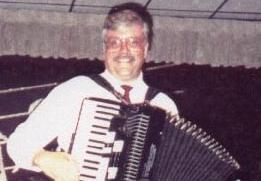 For Years Ron Smolen has been successfully touring and doing what he does best, making beautiful music and entertaining thousands. Throughout the Midwest, his name brings back memories of the Big Band era.

Since age six, Ron has been perfecting his musical ability. Starting on the Accordion, and in High School moving on to the Clarinet and the Saxophone, he has always been excited about performing in public.

Ron began his career playing at local weddings and soon his Accordion talents were in great demand by many prestigious leaders. He was also quite busy in the Polka field. But his true love of the Big Bands was always apparent and by age twenty, he already had his Big Band on the Radio and was featured at Chicago's famous Aragon Ballroom.

Evidently people all over the Midwest are enjoying the music of Ron Smolen because the Orchestra plays many return performances and is busier than ever with a full schedule of both... Public and Private engagements.

History of the Ron Smolen Orchestra ...

Ron Smolen has been performing professionally since 1969 and — with signed contracts currently on file through 2017 — he will continue to direct The Ron Smolen Orchestra well into the new millennium.
The Ron Smolen Orchestra Eleven (11) piece dance orchestra consists of... …
4 saxophones
2 trumpets, 1 trombone
bass, drum, and piano and Vocalist.
The Ron Smolen Orchestra has been heard on radio stations from coast to coast and world wide on the internet.
The Orchestra has also performed for many Radio Station sponsored events including...
WPNA AM - Oak Park, Illinois (Day at the Races) Hawthorn Race Track, Cicero, IL
WLIP AM - Kenosha, Wisconsin (Valentine's Day Dinner Dance) Radisson Hotel
WHUT AM - Anderson, Indiana (Mother's Day) - The Orchestra performed for a 2 -1/2 hour LIVE Radio Remote broadcast from the Paramount Ballroom in Anderson, Indiana.
The Ron Smolen Orchestra was presented with a plaque from the National Ballroom and Entertainment Association. It reads -
In Honor of the Ron Smolen Orchestra 30th Anniversary (September 17, 2001) The National Ballroom & Entertainment Association Wishes to express their appreciation of your continuing efforts, promotion, and support of the NBEA, Big Band Music, and Dancing in the Greater Midwest.
Click here to see it
The Ron Smolen Orchestra is a member of....
A.M.U. American Musicians Union * Dumont, New Jersey
B.B.A.A. Big Band Academy of America * Hollywood, California
N.B.E.A. National Ballroom and Entertainment Association * Decorah, Iowa
A.P.O.L. Association of Professional Orchestra Leaders
The Ron Smolen Orchestra has also been featured in numerous regional and national publications including
Willowbrook Ballroom by Bonnie Classen (New 2012)
America's Music Makers Big Band and Ballroom 2011-2012 by Jack Behrans (New 2011)
Ballroom Echoes by Lon Gault (1989 - still available)
Odyssey of the Midnight Flyer by Lee Barron (1987 - hard to find)
Dance Bands and Swing Bands by Alice Rodgers (1993 Jellyroll Productions, hard to find)
The Ron Smolen Orchestra past engagements include: private events, appearances at historic ballrooms, theatres, grand hotels, resorts, casinos, state fairs, city and county festivals, parades and big band weekend events. A partial list follows
Ballrooms... (Chicagoland and Illinois)
The Aragon, Chicago, Illinois
Crossways Ballroom, Compton, Illinois
Crystal Ballroom, Staunton, Illinois
Hub Ballroom, Edelstein(Peoria), Illinois
The Willowbrook, Willow Springs, Illinois
The Embassy, Chicago, Illinois
Ballrooms... ( National )
Centennial Terrace, Sylvania, Ohio
Col Ballroom, Davenport, Iowa
Crystal Ballroom, Staunton, Illinois
Eagles Million Dollar Ballroom, Milwaukee, Wisconsin
Fairgrounds Ballroom, Dubuque, Iowa
Fairyland Park, Dewitt, Iowa
Hub Ballroom, Edelstein(Peoria), Illinois
Paramount Ballroom, Anderson, Indiana
The Aragon, Chicago, Illinois
The Willowbrook, Willow Springs, Illinois
Theatres...
Avalon Theatre, Milwaukee, Wisconsin
Congress Theatre, Chicago, Illinois
Gateway Theatre, Chicago, Illinois
Pickwick Theatre, Park Ridge, Illinois
Portage Theatre, Chicago, Illinois
Rialto Square , Joliet, Illinois
Tivoli Theatre, Downers Grove, Illinois
Hotels and Resorts...
Bear Creek Farms, Bryant, Indiana
Cliffbreakers Resort, Rockford, Illinois
Conrad Hilton, Chicago, Illinois
Congress Hotel, Chicago, Illinois
French Lick Springs Hotel and Resort, French Lick, Indiana
Palmer House (Empire Room) Chicago, Illinois
Peabody Hotel, Memphis, Tennessee
Casinos and Riverboats...
Ho Chunk Casino, Wisconsin Dells, Wisconsin
Hollywood Casino, Tunica, Mississippi
Empress Riverboat Casino, Joliet, Illinois
Mississippi Belle Riverboat, Clinton, Iowa
Special Events and Historic Locations...
Blackhawk Restaurant, Chicago, Illinois
The Club, Birmingham, Alabama
Illinois State Fair, Springfield, Illinois
Mayor Daley Senior Picnics in the Parks, Chicago, Illinois
Taste of Polonia, Chicago, Illinois
USA Fest, Crete, Illinois
Ron Smolen his Big Band and or Combo
Have also performed for the following LOCAL functions sponsored by
The City of Chicago,
Chicago Park District
The Chicago Department on Aging
Private funding.
Millennium Park
Official Grand Opening
Chicago Summer Dance
Chicago Winter Dance
Cultural Center
Preston Bradley Hall - Concert Series…
Chicago Senior Citizens Hall of Fame Award Ceremony
Daley Center
Dancing Under the Picasso - Big Band Series
Mayor Daley Senior Picnic in the Parks
Provided Musical Entertainment at multiple park district facilities
Neighborhood events including…
(City and Private funded events - partial listing)
Razz Ma Tazz Summer Fest
Wicker Park Fest
Taste of Polonia
Lincoln Square Summer Concerts
Foster Grandparent Program...
Annual Recognition Luncheon - held at the following locations
Conrad Hilton Hotel
Congress Hotel
Palmer House Hotel
Department on Aging
Annual Cabaret Luncheon – held at White Eagle & Mayfield Banquets
Performed " City Sponsored & Private Events " at the following venues
(Partial list)
Art Institute
Shedd Aquarium
Field Museum
Museum of Science and Industry
Chicago Historical Society
Soldier Field
Department on Aging Centers…
Central West
Northeast (Levy)
Northwest (Copernicus)
Southeast (Atlas)
Southwest Regional Center
Renaissance Court.
Park District Facilities… (partial list)
Montrose Harbor, Grant, Kennedy, North Park Village, Portage, Chopin, Hiawatha,
La Follette, Mc Fetridge, Jefferson, West Lawn, Kosciuszko, Hamlin, Cragin, Hermosa, Welles, Hayes, and Riis Parks